School Attacker Response Course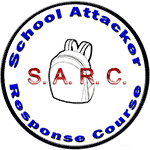 The SARC seminar, developed by I.C.E. Training, is being offered for free by a coalition of professional personal defense instructors to public school faculty and staff in order to give them practical alternatives to the "Hide & Hope" strategies that are commonly being provided.
The seminars last 2-3 hours and can be taught during or after school hours.
Topics include
Overview of typical school attacks
Escape & evasion
Barricading
Improvised defensive tools
Empowering others to act
Unarmed defense
Group defense response
---
I.C.E. Training Company is offering 300 FREE Spree Attack Response DVDs to Teachers, School Systems, and Licensed Daycare Providers!
Available to any teacher, staff or administration member of any elementary, middle, high school, college, or licensed daycare provider in the United States. Limit one per customer. You'll be charged $4.95 for shipping and handling.
Any parent may also send one of these DVDs to the attention of "Principal" or "Superintendent" of their child's school. If you choose to do this, please use that person's mailing address.
---
To learn more or find an instructor in your area, visit SchoolAttackerResponse.com.
If you're interested in becoming an instructor for this course, please see the I.C.E. Training Calendar for dates and locations.